Drop The Knife And Pick Up The Mic
A lot can be said about this statement, our young generation are going insane, and the youths are losing their life over this, postcode war, beef with other people, knife crime, drugs and alcohol related crime, believe system (religion) and race.
You may be asking yourself why, why is this happening, let me explain.
The youths because of their sensitive nature, choose any pattern of life they like, it could be because they're either under pressure, and trying to make money at all cost and not knowing there are other ways to make money without getting into trouble. Majority of the youths chose the option of using substance and this can lead them into total isolation, meaning they now make personal choice to do things their own way, this is called the street life or as the youths like to call it "road". It could start off as just delivering something to another person for some cash, as you can see it isn't that hard, that's why youths do it, it's basically free money for them, but what they're delivering is the question mark, because they could be delivering high class drugs or dangerous armed weapons. But the youths will still do it as long they're getting money. As the youth are doing this and not telling anybody the gang members will see the loyalty, and then ask them to join their gang, and they would be hoping they will be getting more money, but instead of delivering they would be sent to stab or even shoot their gang rivals and kill them, and then they will retaliate and then that's how youths get killed almost always.
Many of these youths that are into the street life have lots of potential talents but they decide to waste it by picking up the knife, but it's never too late to switch that around.
So now Thy Helper is asking the youths why pick up the knife instead of the Mic and change your life for the better, it's not only Mic you could pick up you could pick up any of your talents.
The thing is it's not only in the streets, it's in schools, kids are carrying knifes when they're meant to be focusing on their studies, education is a language but personal studies is the only benefit you have for yourself, the schools, institutions will teach you educationally but you personal research and studies is what bring you toward achieving personal specification.
IT ALSO STATES IN THE NEWS BY THE GUARDIAN
"It is not unusual for teenagers in London to be excluded from school for possession of a knife. In cases I know of, boys have armed themselves after receiving what is known in playground whispers as "the drop": a threat from a rival group, communicated over social media.
When a young person's education is interrupted like this, it raises difficult questions. Could it have been prevented? How are knives becoming normalised among children? What role is social media playing?
Two young men were stabbed in Camden, north-west London, on Tuesday evening, adding weight to the ongoing tragedy of youth violence whose momentum has carried into 2018. Last year 39 children and teenagers were stabbed to death across the UK, the most in a single year since 2008; roughly half of these took place in the capital."
BBC NEWS HAS ALSO CLAIMED THAT LOADS OF 14 YEAR OLD ARE CARRYING KNIFES.
"More than 17,500 boys aged 14 carry a knife or weapon in England and Wales, according to an official estimate from the Home Office.
The figure is in a report analysing "indicators of serious violence" on people born in 2000 and 2001.
The research found that an only child, or teenagers with four or more siblings, were more likely to be involved in serious violence.
Other factors included those who faced "child maltreatment", and bullying.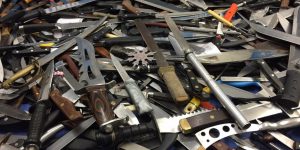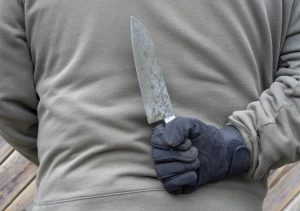 The study published by the Home Office found about a third of those arming themselves had had weapons used against them. They were more likely to use drugs than those who did not use weapons.
It also concluded that ethnicity was "not significantly associated" with using or carrying a weapon.
The key facts about rising knife crime
N.H.S to have legal duty to prevent knife crime
 Knife crime strategy 'too focused on gangs
Source: Home Office, year ending March. Figures exclude Greater Manchester.
There were 43,516 knife crime offences in the 12 months ending March 2019.
This is an 80% increase from the low-point in the year ending March 2014, when there were 23,945 offences, and is the highest number since comparable data was compiled.
These statistics do not include those from Greater Manchester Police because of data recording issues.
Out of the 44 police forces, 43 recorded a rise in knife crime since 2011.
Hospital admissions for knife assaults. Number of admissions for assault by a sharp object, England
Police figures are prone to changes in counting rules and methods, but data for NHS hospitals in England over a similar period showed an 8% increase in admissions for assault by a sharp object, leading the Office for National Statistics (ONS) to conclude there had been a "real change" to the downward trend in knife crime.
Doctors said the injuries they were treating were becoming more severe and the victims were getting younger, with increasing numbers of girls involved.
What crimes are knives used for?
% of knife crime by offence type, England and Wales, year ending March 2019
All of the statistics here relate to England and Wales. Policing, criminal justice and sentencing are devolved in Scotland and Northern Ireland, which also collect crime data in slightly different ways.
In the latest figures, which include only selected knife offences, about half, 21,700, were assaults that caused an injury or where there was an intent to cause serious harm; a further 20,172 involved robberies.
Homicides committed by knife
Number of homicides committed by knife, 1977-2018, England and Wales
Source: Home Office, calendar years until 1998. From there it is year ending March.
These figures focus on homicides, or killings, a category comprising cases of murder, manslaughter and infanticide. In about two out of every five killings, the victim was fatally assaulted with a sharp object or stabbed to death.
The number of knife-related homicides went from 272 in 2007 to 186 in 2015. Since then it's risen every year, with a steep increase in 2017-18, when there were 285 killings, the highest figure since 1946.
One in four victims were men aged 18-24.
The figures also show 25% of victims were black – the highest proportion since data was first collected in 1997.
Most violent attacks involve no weapons
Use of weapons in violent incidents, England and Wales, year ending March 2018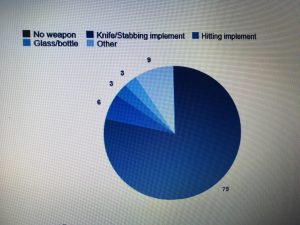 Source: O.N.S
Although knife crime is on the increase, it should be seen in context. It's relatively unusual for a violent incident to involve a knife, and rarer still for someone to need hospital treatment.
Most violence is caused by people hitting, kicking, shoving or slapping someone, sometimes during a fight and often when they're drunk; the police figures on violence also include crimes of harassment and stalking.
The Crime Survey for England and Wales, which includes offences that aren't reported to police, indicates that overall levels of violence have fallen by about a quarter since 2013.
However, the police-recorded statistics – which tend to pick up more "high harm" crimes – have indicated that the most serious violent crime is increasing.
Most perpetrators of knife crime are over 18
Knife possession offences by age, England and Wales, year ending March 2019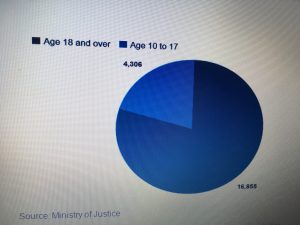 Source: Ministry of Justice
In the year to March 2019, 22,041 people were cautioned, reprimanded or convicted for carrying a knife in England and Wales, most of whom were adults. But one in five – 4,451 – was under the age of 18.
Regional variation in knife crime offences
Knife offences per 100,000 people by region, England and Wales, year ending March 2019
Source: Home Office
Knife crime tends to be more prevalent in large cities, particularly in London.
For every 100,000 people in the capital, there were 169 knife offences in 2018-19.
In 2018, figures from the mayor's office showed that young black and minority ethnic teenage boys and men were disproportionately affected, as both victims and perpetrators.
The Metropolitan Police Chief Commissioner Cressida Dick has said tackling violence in London is her "priority".
Next highest was the North West, with 93 knife offences per 100,000 population, and Yorkshire and the Humber, 86.
What has happened to stop and searches?
Stop and searches in England and Wales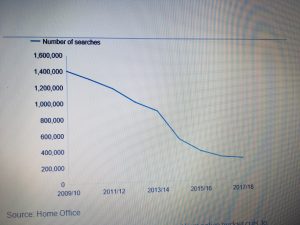 Source: Home Office
The explanations for rising knife crime have ranged from police budget cuts, to gang violence and disputes between drug dealers.
Some have also cited the steep decline in the use by police of stop and search.
The powers enable officers to search people on the street if they have reasonable grounds to suspect they may be carrying weapons, illegal drugs, stolen property or items to be used to commit a crime. People can also be searched without reasonable grounds if a senior officer believes there's a risk of serious violence in a particular area.
From 2009, the number of stops fell sharply across England and Wales, especially in London, primarily because of concerns that the measures unfairly targeted young black men, wasted police resources and were ineffective at catching criminals.
Theresa May, as home secretary, led efforts to drive down the number of stops, but there's anecdotal evidence from police that young people are now more inclined to carry knives because of growing confidence they won't be stopped.
The statistical basis for that is far from clear – but Scotland Yard, with the mayor of London's support, has begun increasing the use of stop and search again.
How have police officer numbers changed?
Number of police officers in England and Wales
Source: Home Office, year ending September
Since 2010, police numbers have decreased by almost 20,000.
Prime Minister Theresa May has said there is no "direct correlation" between the rise in knife crime and a fall in police numbers, but the issue is contested.
In 2018, a Home Affairs Committee report said police force were "struggling to cope" amid falling staff numbers and a leaked Home Office document said they had "likely contributed" to a rise in serious violent crime.
Tougher sentences for knife crime are increasing
Immediate custodial sentences for knife offences, England and Wales
   Source: Ministry of Justice, year ending December
The average prison term for those jailed for carrying a knife or other offensive weapon has gone up from almost five months to well over eight months, with 85% serving at least three months, compared with 53% only 10 years ago.
Sentences for all kinds of violent crime have been getting tougher, particularly for knife crime. The Ministry of Justice tracks the penalties imposed for those caught carrying knives and other offensive weapons in England and Wales.
In the year ending December 2018, 37% of those dealt with were jailed and a further 18% were given a suspended prison sentence. The figures for 2008, when the data was first compiled, were 20% and 9% respectively. Over the same period, there's been a steady decline in the use of community sentences, and a sharp drop in cautions, from 30% to 11%.
Public anxiety about knife crime, legislative changes and firmer guidance for judges and magistrates have led to the stiffer sentences, although offenders under 18 are still more likely to be cautioned than locked up.
Additional research by Ben Butcher.
This piece was originally published in January 2018, but is updated regularly to include the latest statistics.
April 17, 2019 – London, England, United Kingdom – Family members who have lost a person to knife crime, campaigners and demonstrators march through central London in 'Operation Shutdown' protest against the growing number of youth gun and knife crime across the UK, on 17 April, 2019 in London, England. The activists demand that the Government acts to bring an end to violence on the streets through restoring police and local council budgets to austerity levels, calling an emergency cabinet meeting and launching an independent public inquiry into school exclusions.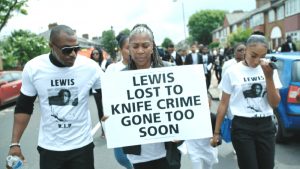 No-one has been charged after Lewis Elwin was stabbed by a gang in south London two years ago – his family blame the 'code of silence'
London's knife crime: Kids as young as 14 aim to kill, says gang member as mum pleads for help catching son's killers
Just two days before his death, Lewis Elwin's mother Sandra had sat him down in their home in Southfields to warn him he was mixing with the wrong crowd.
She knew it was a time where tit-for-tat violence and knife crime among gangs was costing young lives.
But her pleas were too late: The 20-year-old was knifed in the chest after being ambushed by a gang as he walked down a residential street in Tooting in broad daylight as parents collected their children from a nearby school. He died within minutes.
Sandra recalls the last words she had with her son. She said: "Lewis wasn't one to go out there and make trouble. But he seemed to get more fearful as he got older. There was something going on.
"After telling him to pull up his trousers, I said 'see you later I love you', he said 'I love you too' and put his thumb up. He just went off, he was quite happy."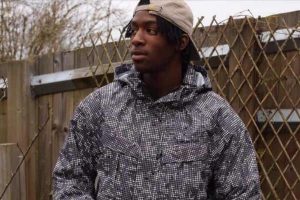 The 20-year-old was attacked and stabbed near a primary school in Tooting on the afternoon of April 18 in 2016 and the perpetrators have never been caught
That was 18 April 2016 and while two 19-year-old men were arrested last year no-one has been charged with his murder still. In a new hour-long VICE documentary exploring gang violence, his family blame the 'code of silence' on the streets.
On A Knife Edge – in which former gang member turned crime activist Josh Osbourne meets grieving families devastated by gang violence – comes out as London is in the throes of a knife crime epidemic. Recent figures show offences involving blades soared to the highest level since 2010 in England and Wales.
The film reports that youngsters as young as 14 are carrying larger, more dangerous knifes and while perpetrators used to hit out to maim, the aim, now, is to kill. As one man affiliated with a gang says: "Everybody's biggest thing to prove now is that this isn't just words."
The trainee electrician's family say they believe many of Lewis's friends know who killed him (Photo: VICE)
'It was an argument over a girl'
Osbourne, the producer, who has known the Elwins his whole life, admits he himself first started carrying a knife at the age of 12. He says bloodshed can erupt over mundane matters in certain postcodes.
Filming himself speaking outside Lewis's funeral, he says: "This young victim is a result of a feud that started 14 years ago, involving a gang that I used to be a part of.
"The dispute originally started between two individuals. It was an argument over a girl. It's almost cave man type. These guy live by an eye for an eye, a tooth for a tooth.
"There's someone still out there walking round knowing what they've done. Justice has to be served."
She says her son had been stabbed before but had "never mentioned who, or why". She believes a "post code war" erupted when her son left SW17 after his father's death to move in with her in SW18.
"We know that we can't keep chucking names at the police without evidence," she said. "But we expect answers because somebody knows something. All his friends know the character of Lewis yet nobody will come forward and say anything and that's very hurtful and sad. Because they all know what went down."
Thy Helper has come to the fact that something needs to happen, these youths cannot be led astray by knife, their life can't go to waste because every child has a talent and our job is to find that talent either is singing, acting etc.
So if you are looking for a way out or want to find your talent email us
Email us @: info@thyhelper.org
WE ARE HERE TO HELP AND EVERY LITTLE HELP COUNT AND TOGETHER WE WILL MAKE THE WORLD A BETTER PLACE TO LIVE